What will the climate be like
in the next 100,000 years?
Talk to the Royal Meteorological Society, 19th January, 2000
---
Contents
---
Why we need to know
Radioactive waste disposal has to be shown to give negligible risk for all time.
Modelling the evolution of radioactive waste repositories needs to include environmental change (e.g. groundwater fluxes).
Many Low Level Radioactive waste repositories are at coastal locations, for instance in France, Sweden, UK and Japan
---
What we need to know

To calculate possible doses incurred by future generations requires modelling of groundwater transport of radionuclides and subsequent likely consumption rates of contaminated food. For this the data required includes:
Infiltration rate
Groundwater flow rates and directions
Crops likely to be grown
Typical food consumption by residents
To obtain the required information climate data is required, as follows:
Global Sea Level
Local Sea Level
Local rainfall rates
Local temperature
Growing season characteristics
Permafrost depth
Ice sheet thickness and temperature
---
Scenarios to consider
Between the scenarios the precipitation and sea level change, altering the groundwater flow and thus the time taken for contaminant to reach the surface, and the location where it reaches the biosphere.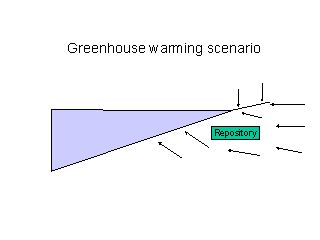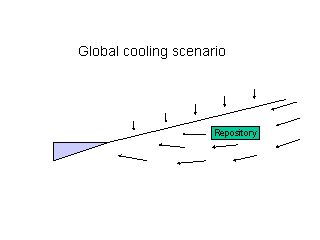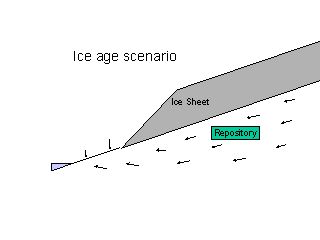 ---
How the future has been estimated
Past data - e.g. core data
Estimates of greenhouse effect
LLN model for global parameters
Use of 'Climate analogues' to estimate precipitation
Consider various scenarios
---
Typical predictions
Climate sequence
Accompanying sea levels and temperatures
Rainfall rates
Figure 3.8 from: Berger A. and Loutre M. F., 1997 . Climate modelling : the LLN 2-D climate model. In : Glaciation and Hydrogeology. Proceedings of the workshop on the impact of climatic change and glaciarion on rock stresses, groundwater flow and hydrochemistry. Past, present and future. King-Clayton L., Ericsson L.O., Kautsky F. (Eds), SKI, NKS, SKB, Stockholm, 16-19.
The Figure is Berger et al's LLN 2D climate model of Northern Hemisphere ice volumes of the last 200 000 years and 130 000 years into the future based on the natural CO2 concentration of Jouzel et al (1993) and a present day Greenland ice sheet compared to three alternative scenarios: (i) the Greenland ice sheet is assumed to be totally melted but the natural CO2 concentration is used (dotted line); (ii) starting with the present day Greenland ice sheet, but with a high level C02 scenario (IPCC S75, dashed line); (iii) starting with the present day Greenland ice sheet, but with a low level C02 scenario (IPCC S55, longer dashed line). From Berger, Loutre & Gallee (1996).
---
Help Needed
Estimates of future atmospheric CO2 concentrations for over 10,000 years.
Forecasts of future regional climate
'Downscaling' from regional climate to local rainfall and temperature.
Consistent sea level predictions
Uncertainties

CO2 estimates
climate driving forces
global climate forecast
downscaling
---
Conclusions
We need to predict the climate for the next 100,000 years.
There are a large number of uncertainties
Dynamic climatology could do more to help this process.
---
Back to Atmospheric Dispersion Modelling page
Back to Cooper and Caulcott Ltd home page